Tragic Fire on Maersk Ship Demonstrates Need for Container Verification in Shipping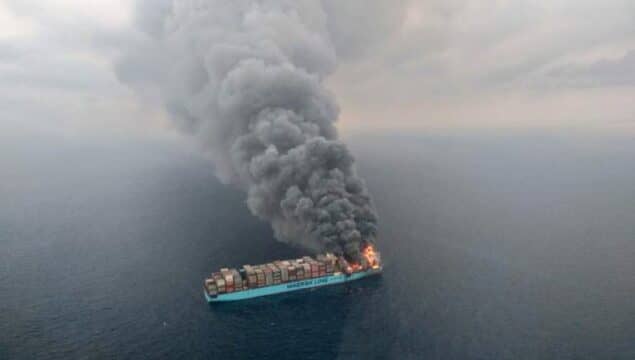 Earlier this spring a tragic fire broke out on the new megaship Maersk Honam, which killed 5 crewmembers and left the ship's cargo destroyed, damaged or indefinitely stranded as the vessel sat smoldering nearly a month after it caught fire in the Arabian Sea.Unfortunately it should come as no surprise that there was a fire on board given how little carriers know about the cargo being loaded on to their ships. In fact, serious container ship fires are happening once every 60 days on average according to the TT Club, a freight insurance and risk management specialist.
And yet, unlike the problem of overweight containers, which was addressed by the 2016 Safety of Life at Sea Verified Gross Mass Rule – which holds the shipper accountable for declaring container weights – little has been done to verify what is declared as content loaded into containers on these ships. This problem persists despite the high number of lives lost due to fires on board and the tens of millions of dollars of lost cargo and supply chain disruption occurring annually.
Despite the rise in ship fires, deaths and mounting financial losses, governments and governing bodies have done little to curb this problem. According to the International Cargo Handling Coordination Association (ICHCA), the number of inspections performed on containers holding dangerous goods is about four per 100,000 packed containers that are transported. And unlike anti-terrorism container security programs, there is very little additional data screening behind the relatively few actual inspections.
Something needs to change. As ships get bigger and more cargo is moved, the risk for fire and other disasters increases exponentially. As shippers, we need a more transparent system in order for vessels to achieve greater certainty in what is being loaded. As an industry, we need to confront this issue head on.
Merco International has the experience, logistics infrastructure and global network to move your freight across towns, across countries and across continents. Whether you need to deliver dangerous goods such as fireworks for a worldwide music tour, or bulk commodities and specialty items, contact Merco International at 305-471-9009 or visit mercointernational.com for an absolutely free consultation to learn more about your options.